See past events by clicking here


The programme of events will constantly evolve throughout the year, and runs annually from autumn to spring. Check back often! Throughout 2020-21, all events will be online.
---
20 January 2021, 7pm

ALAN JENKINS


Support: Aly Stoneman & Tuesday Shannon
Chaired by Rory Waterman

Space is limited; advance registration required. Click here for registration link.
Alan Jenkins's collections of poetry include Harm, The Drift and A Shorter Life (all with Chatto & Windus) and Revenants (Clutag Press). He has served as long-time Deputy Editor and Poetry Editor of the TLS, and was Writer in Residence at St John's College, University of Cambridge from 2015-18. His many poetry awards include a Forward Prize, a Cholmondeley Award, a shortlisting for the T. S. Eliot Prize, and a Poetry Book Society Choice. Alan will read from his poetry, and discuss the genesis of poems and the technicalities of his writing. The session will be followed by a Q&A.
Support will come from Tuesday Shannon and Aly Stoneman, both Midlands4Cities-funded PhD students at NTU. Tuesday's poems have been featured in Left Lion, Take Three (Soundswrite Press, 2019), and elsewhere. Aly was founding poetry editor at LeftLion Magazine, and is a winner of the Buxton Poetry Prize (2015), and a commissioned poet and 'Young Voices' mentor for Nottingham UNESCO City of Literature (2020).
---
17 February 2021, 7pm

WILLIAM IVORY


Support: tbc
Chaired by Zachary Omitowoju

Space is limited; advance registration required. Click here for registration link.
William Ivory will perform his monologue Harry Daft Wins the FA Cup. He will also answer questions from the audience.
William is a leading writer for film and TV. He was Visiting Professor on the NTU MA Creative Writing from 2013-2019, and remains a guest lecturer on the MA and friend of the department. His feature-length films have premiered internationally and won many awards. He is also the author of a number of stage plays and television dramas. His work ranges from crime (The Sins), to comedy (The Invisibles and Common as Muck), to historical drama (Night Flight), and adaptation (Women in Love). He has received major critical success for his work, foe example The Edgar Allan Poe Award, Best Screenplay and Best Single Drama at the European Television awards, and Best Original Screenplay at the New York Television Festival. He also received outstanding critical acclaim from his feature film Made in Dagenham (2010), starring Bob Hoskins, Miranda Richardson and Sally Hawkins, winning Best Screenplay and Best Feature at Dinard Film Festival and Best Film at The Variety Club of Great Britain Awards. His film Torvill and Dean was on ITV1 on Christmas Day 2018. In 2019, he was awarded an Honorary Doctorate by NTU.
The event will be chaired by Zachary Omitowoju, a BA Media Production student at NTU, who is the Research Assistant for Nottingham Creative Writing Hub. Support will come from Creative Writing students at NTU, tbc.
---
3 March 2021, 7pm

LYNDA CLARK


Support: Victoria Zoë Callus
Chaired by Sarah Jackson

Space is limited; advance registration required. Click here for registration link.
Lynda Clark is a graduate of the NTU MA Creative Writing, and also holds a PhD from NTU. She is currently research fellow on the InGAME project at the University of Dundee, where she researches how AI systems can be used in storytelling. Her first novel, Beyond Kidding was published by Fairlight Books in October 2019. Her short story 'Ghillie's Mum' won the Commonwealth Short Story Prize for Europe and Canada in 2018, and was shortlisted for the 2019 BBC Short Story Award.
Support will come from Victoria Zoë Callus, a star graduate of our BA English with Creative Writing and the MRes in Literary Research, and current NTU Midlands4Cities PhD candidate. The event is chaired by Dr Sarah Jackson, who supervised Linda and is currently supervising Victoria.
---
10 March, 7pm

POETRY AND COVID COLLABORATIONS


Sinéad Morrissey, Jan Wagner & Iain Galbraith
Carol Leeming & Rakhshan Rizwan
David Herd & Sharmistha Mohanty
Support: Lauren Terry
Chaired by Anthony Caleshu (U. of Plymouth)

Space is limited; advance registration required. Click here for registration link.
Three international pairings of acclaimed poets recite collaborations written for the AHRC-funded Poetry and Covid project anthology, published by Shearsman Press. The session will be chaired by Professor Anthony Caleshu, of the University of Plymouth (who is working with Rory Waterman on the project). The session will be followed by a Q&A.
Sinéad Morrissey is from Belfast and lives in Newcastle. Shas published six collections with Carcanet. Her awards include the T. S. Eliot Prize and the Forward Prize for Best Collection. Jan Wagner lives in Berlin, and has published seven collections. He is also a translator into English. Iain Galbraith is a Scottish poet, essayist and translator. His prizes include the Stephen Spender Prize (2014) and the Popescu Prize for European Poetry Translation (2015). Carol Leeming MBE was born in Leicester to Jamaican and Antiguan parents. She is a multi-award-winning poet and a multi-disciplinary artist in literature, performing arts & digital media. Rakhshan Rizwan is originally from Pakistan and has lived in Germany, the Netherlands and now the USA. Her debut pamphlet, Paisley (2017), was shortlisted for the Michael Marks Award. David Herd has published several collections, mainly with Carcanet, and is a co-organiser of the project Refugee Tales. Sharmistha Mohanty is the author of three works of prose. Her most recent work is a book of poems, The Gods Came Afterwards.
Support will come from Lauren Terry, NTU Midlands4Cities PhD student, graduate of the NTU BA English with Creative Writing and MA Creative Writing, and author of the pamphlet Museum of Lost and Broken Things (Leafe, 2020).
---
24 March 2021, 7pm


OKECHUKWU NZELU


Support: Panya Banjoko
Chaired by Jenni Ramone
Space is limited; advance registration required. Click here for registration link.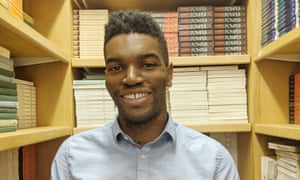 Okechukwu Nzelu was born in Manchester in 1988 and read English at Girton College, University of Cambridge. In 2015 he was the recipient of a New Writing North Award. In 2020 his debut novel, The Private Joys of Nnenna Maloney, won a Betty Trask Award and was shortlisted for the Betty Trask Prize, the Desmond Elliott Prize, and the Polari First Book Prize. He lives in Manchester. Okey will read from his debut novel, and the session will be followed by a Q&A chaired by Dr Jenni Ramone, Senior Lecturer in Postcolonial Studies at NTU, and leader of the NTU BA English module 'Black Writing in Britain'.
Okey will be supported by Panya Banjoko, author of the poetry collection Some Things (Burning Eye Books), curator of the Nottingham Black Archive, and a PhD student in English and Creative Writing at NTU.
---
Do you want to contribute?
If you are a Hub member and want to propose an event, please email Rory Waterman, the NCWH convener (see 'Members'). Nottingham Creative Writing Hub exists primarily for the benefit of all of its student and staff members, and all ideas will be given open consideration and accepted wherever feasible.
We also accept applications from NTU Creative Writing students at all levels to support any events for which support has not already been confirmed (see above). Slots will be awarded based on merit, fit, and fairness – whether you have read for us recently. Again, please email the convener if you'd like to put yourself forward.